Today's guest post is shared by Leeor Neta, the Assistant Director for Public Interest Programs at Golden Gate University School of Law.  After attending the 2010 NALP/PSLawNet Public Service Mini-Conference and EJW Conference and Career Fair he is sharing key insights from programming he attended at both conferences on GGU's Law Career Services Blog.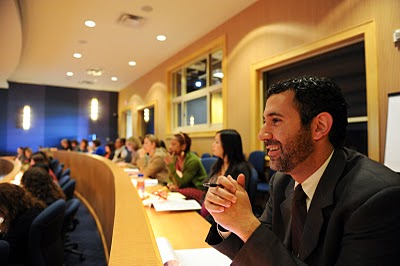 Best Advice I Know on Pursuing a Public Interest Career
On the last day of the NALP / PSLawNet Public Service Mini-Conference, I attended a panel discussion that indirectly shared some important advice on how to pursue a public interest career. I say that the advice was "indirectly shared" because the purpose of the panel was to discuss pathways to public policy and think tank careers. Two of the four panelists (Nicole Austin-Hillery, director and counsel for the Brennan Center for Justice, and Alejandro T. Reyes, associate counsel for the Lawyers Committee for Civil Rights Under Law) are involved in some of the most prestigious impact litigation and legal policy work in the nation.
Both of the panelists agreed that lawyers who work on policy need to understand the nexus between law and enforcement. In concluding that the "best policy percolates up from the street," Ms. Austin-Hillery explained that a policy lawyer can't craft effective policy unless she understands her clients and understands how to get them to tell their stories. A policy lawyer needs to make brief and effective arguments under pressure. A policy lawyer also needs to know how to work with opposing forces and different interests to negotiate on her clients' behalf. Because effective communication and negotiation skills are the key to policy work, the entire panel agreed that a lawyer wanting to work on policy needs a solid foundation in litigation.
The panel also suggested that law students interested in policy work try to work for state legislatures, researching and helping to draft proposed legislation. International work experience, moot courts, and writing opportunities are also considered important. Everyone agreed that working for the Administrative Office of the Courts and State Bar Associations were ideal — and less competitive — ways to acquire policy work experience.
The panel's best advice pertained to all aspiring public interest lawyers. First, they advised — as I have already done for many of you — that law students identify five to ten offices that they would like to work for and try to join their advisory boards. Many of those offices might need independent legal advice and the work that one does as a board member is a great way to leverage an employment offer once a position opens up. Students should consider a two-week immersion program, some of which are extremely affordable (one of the panelists described a program in Mexico that costs less than $800!).
Finally, the entire panel agreed that the best candidates for entry-level positions demonstrate through their resumes and cover letters that they were born to pursue the job for which they're applying. Their resumes demonstrate a seamless progression of attention and commitment to a specific area. Therefore, "the sooner you can decide what it is you want to do with your legal career, the better prepared you will be when you apply for your first job."
The Exciting World of Postgraduate Fellowships
As I have said many times and heard often repeated at the panel on policy work, a postgraduate fellowship is one of the most important ways to launch a public interest career. That's why — even though I am very familiar with the subject — I made it a point to attend another panel later in the week on postgraduate fellowships and to hear about the latest related developments.
Jennifer Tschirch, the fellowships senior program manager at Equal Justice Works, began by dividing fellowships into several basic categories.
The first kind of fellowship is the organization-based fellowship where students apply to and work with an organization that separately obtains the funds to support a salary for the fellow, training and a wealth of other resources. Examples include the fellowships offered by the ACLU and the Lawyers Committee for Civil Rights. The second kind of fellowship is the law firm-based fellowship, where students are hired by a law firm and split time between that firm and a public interest organization. Examples include the fellowships offered by the law firms Fried Frank and Hunton Williams.
A third type of fellowship is the entrepreneurial fellowship, in which a student develops a complete proposal for a new agency and applies for funds to run the agency herself. The most notable example is the Echoing Green Fellowship. A fourth type of fellowship is the project-based fellowship in which a student develops a complete proposal for a project that is housed at a host organization and then applies for funds to support the project. The most notable project-based fellowship is the Equal Justice Works Fellowship. The main difference between the entrepreneurial and project-based fellowship is that a host organization is a partner in the application for the project-based fellowship, while there is no host organization in the entrepreneurial fellowship.
There is also a catch-all category for fellowships that are not so easily defined. This includes fellowships like the three-year Public Defender Corps program that provides essential skills training for aspiring public defenders.
The panel did not spend a lot of time talking about the different categories and instead spoke in detail about the two postgraduate opportunities offered by Equal Justice Works. The first, the Equal Justice Works Americorps, supports 80 entry-level positions with predetermined public service organizations in 17 states and the District of Columbia. The positions last one year with an option to renew. During their term of service, the fellows support the organization's work and receive invaluable training. The second postgraduate opportunity offered by Equal Justice Works is the project-based Equal Justice Works Fellowship (introduced above). For that program, a student or an attorney collaborates with a host organization to develop and design a project and pitch that project to Equal Justice Works one year in advance of the start date. Ninety such fellowships are offered each year. Unlike the Equal Justice Works Americorps Program, the Fellowship Program places no limit on the number of years an applicant has been out of school.
The panel offered a wealth of advice for persons planning to pursue a project-based fellowship, like the Equal Justice Works Fellowship. The first task is for the applicant to envision their dream job and research and approach potential host organizations. All of the panelists agreed that it is never too early to do this work. Indeed, they advised that if you are considering the possibility of applying for an Equal Justice Works Fellowship, you should spend your first summer in law school working with an organization that has hosted Fellows in the past.
Finally, the panel explained that the best applications demonstrate a compelling need, know the community and get stakeholder buy-in (either through service on an advisory board or participation in community workshops and focus groups), propose realistic and targeted strategies (i.e., replicate successful models by looking at what's been funded in the past), show commitment to the work and get extensive feedback!
For more information about all postgraduate fellowships, visit www.pslawnet.org/postgraduatefellowships.
This guest post is excerpted from a series of articles from Neta highlighting lessons learned from NALP/PSLawNet Public Service Mini-Conference and EJW Conference and Career Fair.  To check out forthcoming posts keep checking the LCS Blog for more installments.