HomeBase, a non-profit public policy law firm focused on homelessness, is looking for a full-time Policy Analyst or Lawyer to join the team immediately.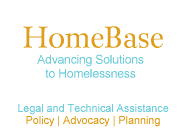 HomeBase is seeking an experienced individual who will work closely with staff locally and nationally to offer technical assistance in supporting community-based and jurisdiction-led efforts to prevent and address homelessness. HomeBase support efforts to implement programs to prevent and address homelessness, including the Department of Housing and Urban Development's Continuum of Care programs and other targeted housing programs.
To learn more, see the listing at PSLawNet!