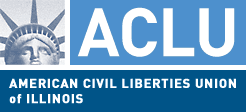 Through an integrated advocacy program of litigation, public education, and lobbying, the ACLU of Illinois works to protect and expand civil liberties. The legal program has ten attorneys. The general civil liberties docket focuses on free speech, association, religion, privacy, criminal justice and equality issues. Special projects include Children's Rights, Institutionalized Persons, Racial Justice, Reproductive Rights, LGBT Rights and HIV and Civil Liberties.
From the PSJD job posting:
The Civil Liberties Fellow will participate in civil liberties litigation, including both trial and appellate work. The Fellow will also be engaged in public education projects and legislative matters. The fellowship is for one year renewable terms. Applications are for the term commencing September, 2013.

Applicants must have excellent analytical and writing skills, and a commitment to civil liberties and public interest law. Recent law graduates and attorneys with up to three years of experience are encouraged to apply.
Deadline to apply is May 15, 2013. For more information, view the full job listing at PSJD.org (log-in required).
Don't forget to check PSJD's Postgraduate Fellowship Application Deadline Calendar for more fellowship opportunities!