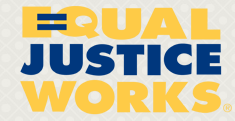 Here's a message from our friends at Equal Justice Works:
Welcome to Fall! The weather is slowly getting cooler, students are back in school and all is right with the world. Well, the $1.2 trillion student debt problem still remains, but even that seems (slightly) more manageable right now.

If you need help, our next free webinar, Drowning in Debt? Learn How Government and Nonprofit Workers Can Earn Public Service Loan Forgiveness, is on Thursday, September 19, from 3-4 p.m. EDT. You can register on our website or by clicking here.

The August weather also seemed to get the New America Foundation all riled up, and they published a highly misleading blog post about Georgetown's LRAP and Public Service Loan Forgiveness. You can find our (measured and fact-based) rebuttal here and Georgetown Law's response here.

Last month we also delved deeply into the long term implications of The Bipartisan Student Loan Certainty Act of 2013 (aka the don't double my rates fix), gave student loan advice to budding entrepreneurs and shared the scoop on Obama's plans to make college more affordable.

Our comprehensive student debt e-book, Take Control of Your Future, has been selling like ice cream in August. Get it while supplies last!