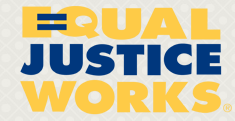 Hey, public interest law students – it's that time of year again!
Every fall, some of the best nonprofit and government employers in the nation convene in Washington, DC for the Equal Justice Works Conference & Career Fair, the largest public interest career fair in the country.
Packed with workshops and interview opportunities, the EJW Conference provides a great platform for law students to network and make a lasting impression on employers. It's an awesome and fun way to find a public interest career that is right for you.
So what are you waiting for? The deadline to register (it's only 25 bucks) is right around the corner (Monday, September 16th!) and the conference will be held on October 25 & 26, 2013. Find out more information in the Student Registration Guide and make sure to visit PSJD's Career Central for tips on preparing your cover letters and resumes!