Sam Halpert, PSJD Fellow 2014 – 2015
Anna Black, VP, Public Interest Law Society – Nova Southeastern University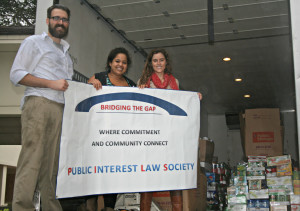 NSU Law students Geoffrey Langbart, Sophia Mitchell, and Anna Black (left to right) with more than 10,000 cans collected at this year's "Canned Immunity" drive.


Photo: NSU Publications & Special Events
Happy Thanksgiving, everyone! I hope all our readers are able to take a break tomorrow, relax with family or friends, and get to the heart of whatever this particular holiday might mean for each of you. Before the PSJD staff go off to our own celebrations, we wanted to recognize the efforts of some of our member schools, who have been working hard in recent weeks to serve their communities and help make this holiday possible for low-income families. Last week, we asked our member schools and firms what pro bono and community service work they were doing in relation to Thanksgiving. Many law campuses organize community service efforts around the holiday, but here are the ones you told us about:
Western Michigan University Cooley Law School's Ann Arbor campus has packed and distributed 100 full Thanksgiving dinners for needy families in the Ann Arbor community as part of its annual Thanksgiving outreach program. Wayne State University Law School, also in Michigan, collected 300 pounds of canned goods and non-perishables to help feed Detroit area families. Their partner in the drive was Gleaners food bank, but Barbri also pitched in, offering $25 off its student content to 1Ls who participated. However, it's Nova Southeastern University's Shepard Broad Law Center, in Fort Lauderdale Florida, that's truly suffused donation incentives into the law school experience. Anna Black, an NSU Law 2L and Vice President of their Public Interest Law Society, wrote us to explain how:
Every year in preparation for Thanksgiving, NSU Shepard Broad Law Center's Public Interest Law Society ("PILS") in collaboration with the Phi Alpha Delta legal fraternity, organizes a highly successful weeklong event called "Canned Immunity." Canned Immunity is a collaborative effort that aims to ensure those who are currently fighting hunger in our community are well fed this Thanksgiving holiday. The entire week before Thanksgiving, PILS conducts a school-wide drive for canned and other non-perishable food items.

The annual drive always receives a high volume of donations thanks to both the generosity of the law student body and the method by which the weeklong event operates. PILS convinces professors to offer their students certain incentives for bringing in donations, including "immunity" from being called on in class that day or the option of selecting another student to act as "co-counsel" to help discuss a case or topic. These incentives encourage students to donate more and more often throughout the week. PILS also competitively tracks the donations, keeping students and faculty apprised of which sections and professors have donated the most. Last year, PILS collected over 12,000 cans during Canned Immunity Week. This year, we hope to collect even more. [Editor's note: This year, the event collected over 10,000 cans. According to the Atlanta Community Food Bank, the average can of food weighs almost a pound. That's over 9,376 pounds of food!] Everything collected during the week is donated to Feeding South Florida, a local food bank.
So thank you, Cooley, Wayne State, and NSU for doing such good work. Thank you Charles Toy, Diane Fears, and Jennifer Gordon & Jennifer Jarema, for taking the time to let us know what each of your respective schools have been up to. (Cooley, Wayne State, and NSU all just made the PSJD Honor Roll for November.) And to all the law students and lawyers who took time this week or this month to make your communities a better place, we at PSJD are most thankful for you.
Enjoy your holiday!