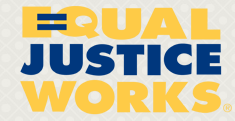 Equal Justice Works is hosting another Free Student Debt Webinar! Check out their message below: 
Halloween is almost here! If you're a law student or graduate, the scariest thing on your mind right now is probably your student loans. 
Not to fear – Equal Justice Works is here to help. We will be hosting our free webinar, "JDs in Debt: What Law Students &Lawyers Need to Know about Managing Student Loans & Earning Public Service Loan Forgiveness," on Thursday, October 27, 2015 from 3:00 pm – 4:00 pm EDT. Whether you're currently a law student or have already graduated, this webinar will provide you with the in-depth information you need to know about Public Service Loan Forgiveness, income-driven repayment plans, and more. Learn to manage your student debt, and take control of your career and financial future. 
We'll be updating our student debt e-book, Take Control of Your Future, to keep all law students and graduates up to date on any legislative and regulatory changes that occur. If you download it now, we'll notify you when we've updated it with the new information. 
Student Loan Debt Hits 1.2 Trillion, Impacts Multiple Generations of Families 
Recently, the New York Federal Reserve released data showing that student loans for Americans over 40 years old now account for more than 35 percent of educational debt – a 10 percent increase from 2004. Generation X adults between the ages of 35 and 50 years old owe about as much as recent college graduates, with an average of $20,000. 
This data also showed that more parents are struggling to help their children pay for higher education while continuing to pay off their own student loans, and the whopping $1.2 trillion in student loan debt increasingly spans multiple generations within families. Now that the student debt crisis is officially multigenerational, studies show that some families are delaying marriage and foregoing home ownership until their loans become less of a burden. 
Law graduates are no strangers to the collateral consequences of heavy student debt, but thankfully there are still federal debt relief programs around to help. In a recent Huffington Post blog article, "9 Facts About How to Manage Your Student Debt," we give you a quick rundown of things you need to know about borrowing and repaying student loans that will help alleviate the effects of crippling student debt. 
Help Protect Public Service Loan Forgiveness 
As always, we urge you to take action to preserve Public Service Loan Forgiveness before Congress moves forward with capping or eliminating this vital program for public service workers. Start today by filling out our survey and joining the ABA's Save #Loan4Giveness campaign! 
Equal Justice Works is a 501(c)(3) nonprofit organization dedicated to creating a just society by mobilizing the next generation of lawyers committed to equal justice. Our webinars are tailored to law students and lawyers, but the information is applicable to anyone who needs help managing the burden of student loan debt. To stay up to date, follow us on Twitter (@EJW_org, #studentdebthelp) and on Facebook!