The PSJD Resource Center has valuable information for law students, career counselors and lawyers about public service law jobs.
The PSJD Practice Area Guides are designed to give students and job seekers brief overviews of several different legal fields. The guides include practical information regarding the types of employers and practice settings in various fields of law. The guides also include skills that would be useful to gain during law school if a student is seeking to practice in that area after graduation.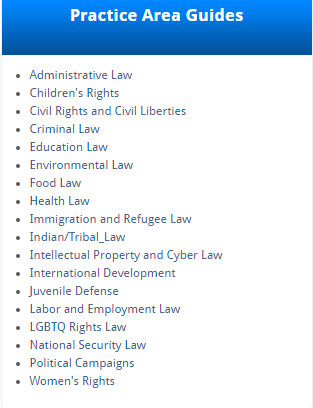 ---
*Career Counselor's Corner*
Claudio Melo, JD, Director of the Career Center at University of Minnesota Law School says "I use these consistently with my 1L students. They provide a bite-size overview of common practice areas of interest. Also, if a student has an upcoming informational interview, I encourage them to review the attorney's practice area of focus prior to the meeting."
---
Couldn't find the practice guide that you were looking for? Send us an
email
and we'll do our best to create one and put it on the website.