The PSJD Resource Center has valuable information for law students, career counselors and lawyers about public service law jobs.
The PSJD Fellowship Deadline Calendar includes all Fellowships that have been posted on PSJD, organized by deadline.  Fellowships on the PSJD database do not expire and prior fellowships are included for historical and educational purposes.  2Ls or rising 3Ls can use the deadline calendar to perform research on existing fellowships and get a head start on creating a fellowship proposal.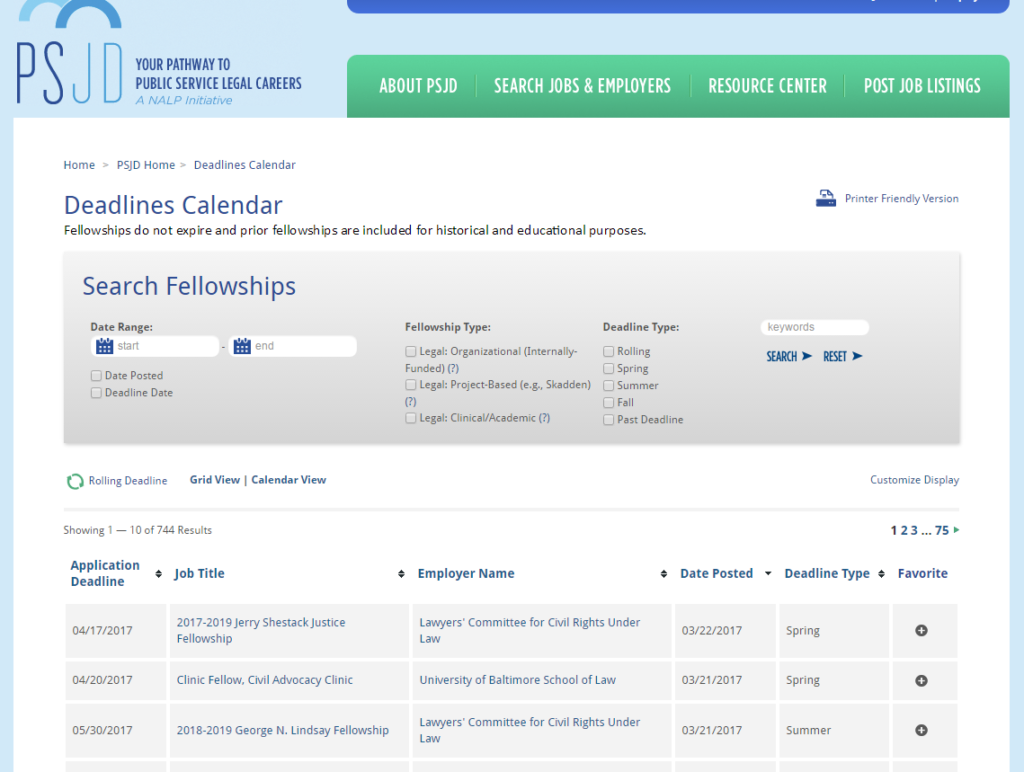 The calendar is searchable by date range, fellowship type, deadline type and key word.  Users can also change the way they view the calendar, the default view is by grid, but you can also view it in the traditional calendar view.
---
*Career Counselor's Corner*
Samantha Zappia Kasmarek, Esq., Associate Director of Career Services at Syracuse University College of Law says "We all know that the lack of a uniform hiring timeline for public interest jobs is frustrating. But, for students seeking post-graduate opportunities, the fellowship calendar on PSJD can make things so much easier. From keeping track of deadlines to visually seeing the number of opportunities that are out there – it helps both counselors and students stay on top of available positions. It's also a resource students should know about early on to help them develop a career strategy. They can get a sense of the knowledge and experience that they should obtain during law school in order to be competitive for a fellowship position." Do you know of fellowship opportunities not listed on the calendar? Send them to us in an email and we'll get them in the database, and on the calendar.