March 6th is officially "Flip Your Wig for Justice" Day in Canada! Members of the justice community and public are sparking dialogue about Canada's access to justice funding crisis by wearing traditional judicial or wacky wigs and making donations to participating non-profit agencies. This is the awareness campaign's first year, and most of the activity is taking place in Ontario.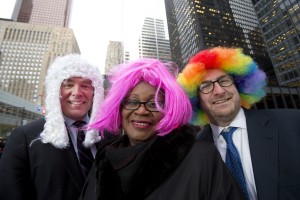 From Pro Bono Students Canada:
Of the 12 million Canadians who will experience a legal dispute or injustice in a given three year period, 65% believe nothing can be done with respect to their legal problems.
Almost 40% of people with one or more legal problems reported having other social or health related issues that they directly attributed to a justiciable problem.
Statistics indicate that individuals who receive legal assistance are between 17% and 1,380% more likely to receive better results than those who do not.
How to Flip Your Wig

Wear a traditional judicial or wacky wig on March 6, 2014, marking the day Ontarians took action for access to justice. Visit flipyourwigforjustice.ca to register as a participant or team and begin collecting donations.
Make a direct donation to a registered participant or team on the website or offline. Donations are eligible for a charitable tax receipt.
Join the conversation on Twitter (twitter.com/FlipWig, #FlipYourWig), Facebook (facebook.com/FlipYourWigforJustice) and Instagram (instagram.com/flipwig).

The seven founding non-profit organizations are: Association in the Defense of the Wrongly Convicted (AIDWYC);Canadian Civil Liberties Association Education Trust (CCLA); Community Legal Education Ontario (CLEO); The Metropolitan Action Committee on Violence Against Women and Children (METRAC); Ontario Justice Education Network (OJEN/ROEJ); Pro Bono Law Ontario (PBLO); and Pro Bono Students Canada (PBSC).
Check out the Flip Your Wig website for more information.
Photo: Ontario justice leaders and community prepare for 'Flip Your Wig for Justice', an awareness campaign in support of access to justice on March 6, 2014. Left to right: Treasurer Thomas G. Conway, Law Society of Upper Canada; Executive Director Wendy Komiotis, Metropolitan Action Committee on Violence Against Women and Children; and Dean Lorne Sossin, Osgoode Hall Law School (CNW Group/Flip Your Wig for Justice)