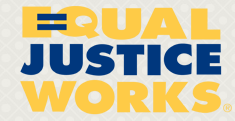 Equal Justice Works has two great programs for law students serving at organizations throughout the country for the summer. Learn more about these programs during our free webinar!
Applications are also still open for our Public Interest Awards, and we will also be hosting a student debt relief webinar next week. Details below.
SUMMER FUNDING OPPORTUNITIES WITH EQUAL JUSTICE WORKS
Tuesday, February 16 at 2 p.m. ET
This webinar will introduce participants to AmeriCorps JD and the new Rural Summer Legal Corps program for law students with Equal Justice Works. Learn about the opportunity to earn up to $4,000 this summer working with legal aid organizations nationwide in underserved and rural communities. Topics discussed will include eligibility, program requirements, application process and timeline directly from Equal Justice Works staff.
RURAL SUMMER LEGAL CORPS
Rural Summer Legal Corps connects public interest law students with LSC-funded civil legal aid organizations to address pressing legal issues facing rural communities. Participants earn a $4,000 stipend for their summer service. Applications must be submitted by February 29 for the 31 positions open nationwide.
More information can be found at www.rurallegalcorps.org and questions can be directed to ruralcorps@equaljusticeworks.org.
AMERICORPS JD
AmeriCorps JD provides a $1,212 education award to law students who deliver critically needed legal assistance in underserved communities across the country. Our spring application deadline is April 15.
Learn more about the program and application by reviewing our website and guide. Questions can be directed to americorpsjd@equaljusticeworks.org.
GETTING THE MOST OF THESE OPPORTUNITIES
| | | | |
| --- | --- | --- | --- |
| Option | Stipend | Education Award | Outside Funding |
| Rural Summer Legal Corps (standalone) | $4,000 | $0 | More than $1,212 |
| Rural Summer Legal Corps + AmeriCorps JD | $4,000 | $1,212 | $300 or less |
2016 EQUAL JUSTICE WORKS PUBLIC INTEREST AWARDS
This year, Equal Justice Works' National Advisory Committee is presenting awards to law students at Equal Justice Works member schools in eight regions who have a demonstrated commitment to public interest law and pro bono work.
The Equal Justice Works Public Interest Awards seek to identify and honor law students who have provided extraordinary service through law school clinics, volunteer work, internships, and/or extracurricular projects. Recipients will be honored during an Award Ceremony with a commemorative plaque and $250.
Applications are currently open through March 1, 2016. Please find the application here as well as a list of our member schools divided into eight regions. If you have any questions, please email us at students@equaljusticeworks.org.
ADMINISTRATION PROPOSES CAPPING PSLF – AGAIN!
For the third year in a row, the Obama Administration's budget proposed capping Public Service Loan Forgiveness at the undergraduate loan limit (currently $57,500). We'll discuss the implications of this and other legislative proposals on student debt in this month's free webinar, JDs in Debt: What Law Students & Lawyers Need to Know About Managing Student Loans & Earning Public Service Loan Forgiveness.
As it does every month, the webinar will also provide the in-depth information about programs like income-driven repayment plans and Public Service Loan Forgiveness law students and lawyers need to manage their student debt. The webinar will be held on Tuesday, February 16 at 3 p.m. ET. Click here to register.