by Ashley Matthews, PSJD Fellow
Look no further – we've got your step-by-step instructions, including screenshots, right here!
First things first: Head over to PSJD.org's Resource Center by clicking the link in the header of the site.

(Click the screenshot to enlarge.)
It's a good idea to log-in now, because you'll need access to all the fellowships later!
The new Fellowship Deadline Calendar will be the last link in the Postgraduate Fellowships section of PSJD's Resource Center. If you really, really like our old list of deadlines and just hate calendars, you can always click the link above it to get to the previous version: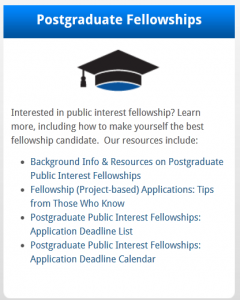 After you click the link, you will see PSJD's new Fellowship Deadline Calendar! At first, it may look like this: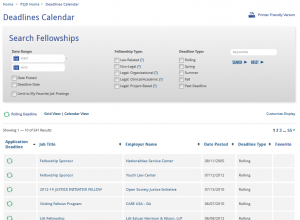 This is called a Grid View. You can change this by clicking Calendar View, right under the gray Search Fellowships bar and right above the Search Results.
Your Calendar View will look like this: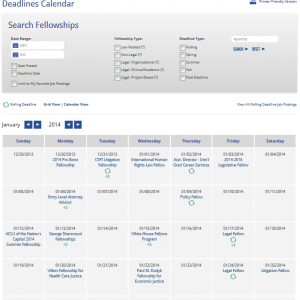 You can filter all the results you see in the grid or calendar by using the gray Search Fellowships bar:
This bar will be your command center while searching for postgraduate fellowships. You can filter results by date range, fellowship type, and deadline type. There's also an option to limit your results by Favorites! Here's a breakdown of what you see:
Date Range: You have two ways to filter the date range of PSJD's postgrad fellowships – by deadline, and by the date it was posted on PSJD. This is really helpful if you're only looking for fellowships you need to apply for right now, or if you're only looking for fellowships that were recently posted so you can get a head start on the application.
Fellowship Type: Each fellowship is posted under a category. When filtering your results, hover over the question mark next to the name of the fellowship type to get more information on what types of opportunities are listed for each:

Deadline Type: Fellowships have different types of deadlines – some may be rolling until filled, and others may be in the spring, fall or summer. Job-seekers can also view fellowships archived on PSJD with past deadlines.
You may see an entry on your Calendar View that has a plus sign and a number next to it, like this: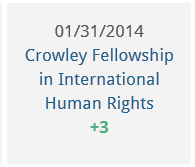 Depending on how you filtered your search results, this +3 just means there are 3 other fellowships that were posted on that day, or have a deadline that falls on that day.
If you're interested in any of the fellowships you see, just click the name for application info – it's hyperlinked right to the PSJD posting.
Got more questions about the new PSJD Fellowship Deadline Calendar? Shoot me an email at AMatthews@nalp.org or give the PSJD office a call at (202) 296-0076. We're happy to help you navigate this new feature!