Elizabeth Gyori
Program Assistant, Leitner Center for International Law and Justice at Fordham Law School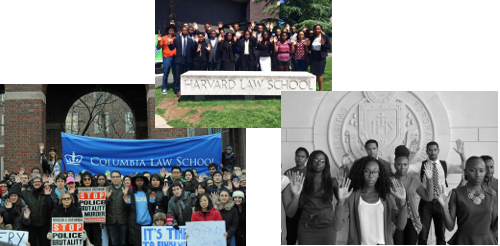 Law school communities protest police brutality in front of symbols of their legal expertise. [Reprinted with permission.]
Law students have lain in tense, reflective silence while holding signs that read, "Black Lives Matter." They've chanted, "No justice. No peace. No racist police!" while blocking traffic. They've acted as legal observers, demanded inclusion at their schools, and called for long-term, systemic change. Many law schools have erupted in protest, activism and internal soul-searching after a grand jury declined to indict Darren Wilson, a white police officer, in the fatal shooting of Michael Brown, an unarmed African-American, in Ferguson, Missouri.
The Michael Brown case has become symbolic of rampant police brutality against communities of color in the United States and sparked an outpouring of anger and protests across the country. This movement against police abuse gained momentum after another grand jury declined to indict white police officer Daniel Pantaleo in the chokehold death of Eric Garner, an unarmed African-American, on Staten Island. Because many see these cases as failures of the criminal justice system, the voices of law schools, students, faculty and staff, who have spoken out against police abuse and institutionalized racism in light of recent events in a plethora of ways, are an especially significant part of this movement.
PROTESTS AND EVENTS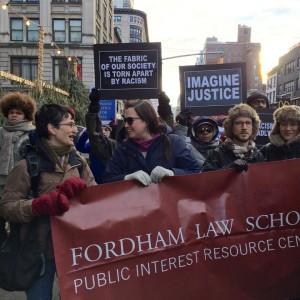 Fordham Law School contingent at Millions March in NYC, 13 Dec 2014 [Reprinted with permission.]
From Berkeley to New Haven, law students have organized protests in solidarity with national protests after the grand jury verdicts. Over 200 law students, faculty and staff participated in a die-in at UC Berkeley School of Law on December 10, in which about 40 people laid down in front of the law school for 15 and a half minutes. Eleven minutes symbolized the number of times Eric Garner gasped, "I can't breathe," while in a chokehold. Four and a half minutes symbolized the number of hours Michael Brown's body was left in the street after he was shot dead. Similarly, over 500 members of Yale Law School led a die-in, lying in the street for four and a half minutes in New Haven on December 5.
Students, faculty and staff have also joined national and community protests for justice, both as representatives of their institutions or groups and as individuals. In New York, members of many law schools, including Brooklyn, Cardozo, Columbia, Fordham, New York and Touro, marched in the Millions March on December 13. In general, the recent protests have been noticeably youthful, and law students have been visibly present at the various actions.
As with most controversial legal issues, law schools have sought to foster dialogue about Ferguson and racial disparity in the US through forums and other events. Lewis and Clark Law School held two open forums on the shootings and grand jury verdicts. At The University of Washington School of Law, over 200 people attended a discussion led by Seattle Defense Attorney Jeffrey Robinson on Ferguson, policing in communities of color, and the criminal justice system. Many schools will host follow-up events in the spring on the issues Ferguson has brought to surface.
ORGANIZING AND ACTIVISM
Law schools and students are uniquely positioned to legally address the situation in Ferguson and surrounding issues. Recognizing this, student organizations like chapters of the Black Law Students Association (BLSA) and the National Lawyers Guild (NLG) have sprung into action. The National BLSA developed an activism toolkit on organizing strategies, possible campaigns and students' rights when protesting.
Law students are "the ones who can affect change because it is the lawyers who will essentially change the law," Kim Brimm, National Director of Public Relations for the NBLSA, said. "Some of us will become senators, and some of us will become governors, and councilmen, so it definitely starts with us."
True to Ms. Brimm's words, individual BLSA chapters have already started. In the wake of recent events, law students have begun working within their local communities to address police brutality and racial disparities. Harvard's BLSA has been working with Professor Ronald Sullivan to draft model local cameras-on-cops legislation. The group also hosted a conference on police relations in Boston and Cambridge, which over 200 community members attended. The conference featured a "Know Your Rights" workshop and a dialogue with Boston and Cambridge police, which was "really, really powerful," McKenzie Morris, president of Harvard's BLSA, said.
In Philadelphia, University of Pennsylvania School of Law's BLSA has been working with the American Civil Liberties Union on two projects on stop-and-frisk and civil access forfeiture. In partnership with the local organization Disproportionate Minority Contact, they also hope to launch a program next spring that will educate local law enforcement on adolescent psychology and facilitate dialogues between police officers and students in largely minority and disadvantaged schools, Dorian Simmons, President of UPenn's BLSA, said.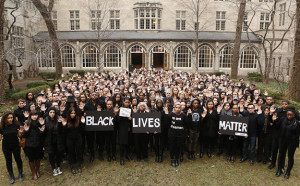 Northwestern Law School's #handsupdontshoot solidarity action [Reprinted with permission.]
Other law school communities have taken public stances on more national stages. To raise awareness and show solidarity, a wide array of student groups and some law school communities released statements condemning the non-indictments and calling for meaningful reform. A statement by members of Fordham Law School, which garnered over 350 signatures, expresses support for "thoughtful reforms such as demilitarization of our nation's police forces and shifting the focus of enforcement away from tactics that have disparate racial impact." An open letter to President Obama and Attorney General Holder, which was drafted by Harvard Law School's BLSA, garnered over 1,000 signatures – almost half of the law school. The letter calls for action against a system that devalues black lives, including through the use of body-worn cameras by police, and the prosecution of police officers who have killed unarmed minorities.
Several schools and student groups have also engaged in media campaigns, including Northwestern, Harvard, UCLA, and Fordham law schools. They participated in the #handsupdontshoot campaign by taking photos in front of their law school signs with their hands raised. This fall, the Harvard's BLSA even launched their own media campaign, featuring similar photos of students.
OBSERVATION AS ACTION
One of the most distinct ways that law students have engaged in recent actions is through legal observing, in which neutral individuals monitor and document the activities of demonstrators and their interactions with law enforcement at the request of organizers. When the Ferguson Legal Defense Committee (FLDC), an organization providing legal support to the Ferguson community, issued a call to action for law students, many responded by volunteering as legal observers, while others provided research support. Nicholas Klaus, a 3L at Wayne State University School of Law and Co-Student National Vice President of the NLG, made two trips to Ferguson in October and November, traveling with two fellow classmates in November. "I felt like I had a duty to go," Klaus said. "I felt like there was a call to do something. I was in a position to do the work. It's what I came to law school to do, and so, we went."
Watching and documenting demonstrators' interactions with police, Klaus observed (and experienced) police use of pepper spray, tear gas, and rubber bullets against protestors during his trips, which may prove important in defense of criminal charges brought against protestors and in affirmative litigation against such police practices.
With many student chapters of the NLG conducting observer trainings, legal observing by law students has also been prominent at community protests. Legal observing "allows people who would otherwise be pretty moderate to be a part of the movement without actually having to participate," said Meredith Osborne, Co-Chair of University of Michigan Law School's NLG chapter. "They can kind of be this 'neutral observer,' but in reality they know that they are there on behalf of the organizers."
As protests continue, so does the need for observers. Osborne and her NLG chapter have been acting as legal observers for demonstrations in the Ann Arbor area since the summer and plan to conduct observer trainings every semester in light of an increase in interest from students.
CHANGES WITHIN
Nothing is more local for law students than their own law schools communities. Student coalitions at Georgetown, Columbia, and Harvard law schools have called on their own schools to become more inclusive of minority students and to address racism on campus. "As students of color on campus, we feel very isolated," said a 2L African-American Coalition member at Georgetown who asked to remain anonymous. "The Coalition basically formed out of a feeling that we needed to do more, and get the university to really listen to what our needs are and what our problems are with the way the people of color are treated on campus."
Generally, each coalition is demanding institutional support for students affected by recent events, a public statement by their respective administrations on Ferguson, exam extensions on an individual basis, and continuing initiatives to address diversity on campus, including diversity training. Schools have begun to respond to these demands, with all three schools beginning dialogues with the coalitions and Columbia Law School granting exam extensions.
In this time of reflection, some law schools have implemented or are considering new programs addressing diversity and racial disparity in the justice system. For example, Columbia Law School launched an online forum on police accountability, complete with fact sheets on the Michael Brown and Eric Garner cases written by faculty, for interested students who want more information for informed conversations with family and friends. The school is also considering small group discussions on the issues surrounding Ferguson and a parallel orientation or year-long program for 1Ls on how race, gender, poverty and social exclusion intersect with the law, said Ellen Chapnick, Dean for Social Justice Initiatives at Columbia Law School.
MOVING FORWARD
Activism around and the police killings of Michael Brown and Eric Garner has opened a space for public conversations addressing police brutality, racism and failures of the justice system in the US. Law school communities are seizing this moment of opportunity to explore innovative and creative ways to frame these dialogues and push for justice in Ferguson and beyond.