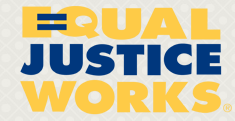 If you're trying to get a handle on student loans, check out this message from our friends at Equal Justice Works:
Fall semester is here, and law school is officially back in session! As law students settle into a routine of classes, casebooks, and study groups, Equal Justice Works is here to remind everyone that it pays to be smart about student loan debt – especially for those in the public interest law profession.

 

To help you out, Equal Justice Works will be hosting a free webinar, "JDs in Debt: What Law Students &Lawyers Need to Know about Managing Student Loans & Earning Public Service Loan Forgiveness," on Thursday, September 24, 2015 from 3:00 pm – 4:00 pm EDT. Whether you're currently a law student or have already graduated, our webinars provide you with the in-depth information you need to know about Public Service Loan Forgiveness, income-driven repayment plans, and more. Learn to manage your student debt, and take control of your career and financial future.

 

 

We'll be updating our student debt e-book, Take Control of Your Future, later this year to keep all law students and graduates up to date on any legislative and regulatory changes that occur. If you download it now, we'll notify you when we've updated it with the new information.

 

Campaign to Save Public Service Loan Forgiveness

 

One potential legislative change that every public interest law student and lawyer needs to know about is the possibility that Public Service Loan Forgiveness (PSLF) may be capped or eliminated in 2016. The U.S. House of Representatives adopted a proposed FY2016 budget that recommends eliminating loan forgiveness for those who choose to dedicate their careers to public service. President Obama has also proposed capping PSLF to only allow forgiveness up to the undergraduate loan limit of $57,500 – a significant blow to law graduates burdened with a heavier debt load.

 

As veteran public interest attorney Estelle H. Rogers wrote in a guest post for our Huffington Post blog, "Making a Dent in Law School Debt," "[t]he Public Service Loan Forgiveness program is a crucial ingredient in preserving – we can only dream of expanding – a vibrant public interest legal community."

 

Here at Equal Justice Works, we couldn't agree with Estelle more. If you agree too, take action by filling out our survey on preserving Public Service Loan Forgiveness and join the ABA's Save #Loan4Giveness campaign.

 

Equal Justice Works is a 501(c)(3) nonprofit organization dedicated to creating a just society by mobilizing the next generation of lawyers committed to equal justice. Our webinars are tailored to law students and lawyers, but the information is applicable to anyone who needs help managing the burden of student loan debt. To stay up to date, follow us on Twitter (@EJW_org, #studentdebthelp) and on Facebook!