The PSJD Resource Center has valuable information for law students, career counselors and lawyers about public service law jobs.
The PSJD Firms Allowing Split Public Interest Summer Options includes a few law firms that have programs that enable law students to work for part of the summer with the firm, and part of the summer with a public interest organization.  Some of the firms will pay all or part of the students' salaries for the entire summer.  These programs provide an opportunity for a diverse summer experience and demonstrate a firm's strong commitment to pro bono work.  There are a few variations of the split public interest summer.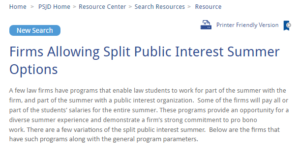 The Summer Funding Sources Paid Internship Programs resource lists programs that are either sources of unrestricted funding for summer internships previously secured or programs that will fund students at program host sites for summer work. Some programs have specific issue areas (indicated) and/or geographic restrictions. The table is sorted by typical deadline, with the fall deadlines first followed by the spring deadlines.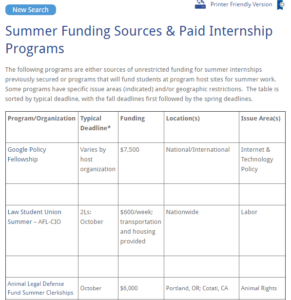 ---
*Career Counselor's Corner*
Ashley Matthews, JD, Program Manager for Law School Engagement and Advocacy for Equal Justice works says "The PSJD Summer Funding Guide and Split Summer Firm Guide are both essential lists of stipends, awards, and paid internship programs for public interest law students. We share it in all of our Summer Funding webinars!"
---
Do you know of a great summer funding opportunity? Send it to us in an
email
and we'll do our best to get it up on the website.