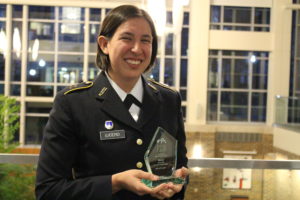 Every year, we honor law student pro bono with the PSJD Pro Bono Publico Award.  Any 2L or 3L who attends a PSJD subscriber school and has significant pro bono contributions to underserved populations, the public interest community and legal education is eligible for nomination.  This week, the 2016-17 PSJD Pro Bono Publico Award winner will be guest blogging about law student pro bono and her public interest commitments.  (Check out posts by the Merit Distinction honorees here and here.)  Today, we're featuring award winner and Duke University School of Law student Gabrielle "Gabs" Lucero, who has organized pro bono projects that advocate for victims of sexual assault and veterans.
---
Creating Impact through Infrastructure
by Gabs Lucero, PSJD Pro Bono Publico Award Winner, 2016-2017 (Duke University School of Law)
My goal in coming to graduate school was to pursue a career in service and advocacy.  I became involved with sexual assault advocacy as a high school student and have since dedicated the majority of my academic and extracurricular time toward advocating for victims of sexual assault.  Early in this process I realized the power of the criminal justice process to either hurt or harm victims of sexual assault, and so I decided to go to law school to be a positive force within the system.  I also recognized the need for legislative changes regarding sexual violence, so I decided to pursue a master of public policy in the hopes of bridging the gap between people with public interest needs and the structures they must navigate in seeking relief or systemic changes.
Through my education and experiences in advocacy work, I have learned that one of the best ways to have an impact is to create a strong and lasting infrastructure.  As such, my activities throughout my time at Duke and in Durham have centered on the goal of creating an infrastructure for veterans and sexual assault victims, especially through my involvement in two pro bono projects: the Veterans Assistance Project (VAP) and the Coalition Against Gendered Violence (CAGV).
It was incredibly important to build an infrastructure that will survive my departure and the continual flux of students entering and leaving the law school.  I can trust that when people know that infrastructure is there, they will continue to utilize it, grow it, and increase the impact of the project on the clients that need help.  My goal at Duke has been to create strong infrastructures that address important community needs and will continue to grow with each new class of engaged students.
VAP is a program that connects students with veterans seeking services from the Veteran Unit in Legal Aid to help with work such as discharge upgrades, access to benefits, and military sexual trauma claims, among others.  My goal with VAP has been to create a self-sustaining foundation that serves local Durham veterans.  My co-director, Sarah Williamson '17, and I worked closely with the Veteran Unit Legal Aid attorney to restructure the program which was challenged by inconsistent support from supervising attorneys and by changes that Legal Aid was undergoing in its work with veterans.  Working closely with the new attorney, we were able to establish a structured process so that students could more easily and regularly complete the work.  We instituted office hours with the supervising attorney every week, conducted training on the specific types of claims, and streamlined the connection between the attorney and the students on each veteran's claim.  We created standing documents and templates that students could use in claims.  We also drafted step by step outlines for the process for certain parts of cases so that students could turn to them without having to spend extra time on similar research.  Additionally, we established connections that will be our go-to personnel in future cases, such as a local practitioner who specifically conducts the required Veterans Affairs assessment for claims of military sexual trauma.
When I joined the Coalition Against Gendered Violence, it was a relatively inactive group that put on two or three informational events throughout the year.  Once in leadership, my co-director, Shannon Welch '17, and I went to work on expanding the group and its impact.  We connected with an attorney at the North Carolina Coalition Against Sexual Assault (NCCASA) and began to develop a program where law students could represent student sexual assault victims in college adjudication processes.  We recognized that defendants in adjudication hearings were disproportionately represented by counsel, whereas victims often did not have representation and went to the hearings alone.  Victims are often limited by factors of cost, embarrassment, not wanting to tell their family what happened, and many other significant concerns.  In order to have a fairer process, we wanted to create a mechanism for students to have representation and support throughout the adjudication process.  We have worked diligently with NCCASA to create an infrastructure that provides training for law students to work with victims in the college adjudication system.  The training includes, for example, how to help a victim write an opening statement, working with clients on questions, and understanding the nuances between different colleges' processes.  The goal of the project, for both CAGV and NCCASA, is to create a statewide infrastructure between the different North Carolina law schools where law students represent victims at any college across the state.  My role has been to establish a lasting connection with NCCASA and to build an infrastructure for trainings and volunteer availability for representation of victims.  My co-director and I have also worked diligently to provide more availability and acceptance of resources for members of the Duke Law community who are survivors of sexual assault.  This has included, among other things, creating a successful initiative to include resource stickers in every bathroom stall at the law school and providing a training for law students on working with victims as clients and witnesses.  We hope to further empower students to take better care of themselves as well as their clients in the future.
I hope to leave the Law School with strong infrastructures in place that are ready to be built upon by the many dedicated students that come after me.  After I graduate, I plan to continue a career in public service by first clerking on the Court of Appeals for the Armed Forces.  I will then serve on active duty with the Army Judge Advocate General's Corps.  I hope to one day be a Special Victims Prosecutor within the JAG Corps.