The PSJD Resource Center has valuable information for law students, career counselors and lawyers about public service law jobs.
The PSJD Employer Profile Directory, though technically not in the PSJD Resource Center, is a great resource for law students and JD holders to do a targeted search on employers in the legal area that they are interested in. Employer profiles are also a great way to find employers in a particular geographic area. On the advanced search page, check employer profiles and then enter the rest of the search parameters.  You will receive a list of all the employers that meet those parameters that are active on PSJD. Green asterisks mean that the employer has an open position currently posted on the site.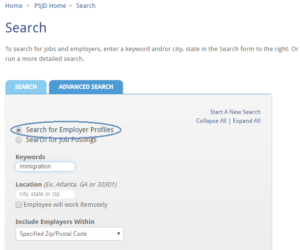 ---
*Career Counselor's Corner*
Amanda Furst, JD, Director of Public Interest Programs at University of Minnesota Law School says "PSJD's Employer DIrectory is a great resource for students exploring national public interest markets! Students can research practice areas, location, employer size, and more to learn more about opportunities in their preferred locations. As I counsel students on public interest career paths, I use the Employer Directory to provide specific suggestions targeted to my students' needs." Do you know of public interest employers in your area not in the database? Send them to us in an email and we'll get them on PSJD.