By: Delisa Morris, Esq., M.S.
Last week I, Delisa Morris, former PSJD Fellow, had the opportunity to visit the United States Patent and Trademark Office (USPTO) for educational programming about the office, and its internship and job opportunities. The audience got to hear from six offices inside the USPTO: Office of the Chief Communications Officer (OCCO), Office of Equal Employment and Opportunity and Diversity (OEEOD), Trademarks, Office of Human Resources (HR), Office of the Chief Economist (OCE) / Office of Policy and International Affairs (OPIA) and Patents. Each office representative shared a little about what she does day-to-day, the initiatives the office is pursuing, the type of jobs the office has and what hiring managers in each office look for in applicants.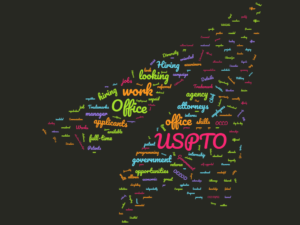 The USPTO was listed as the Best Place to Work in Government in December 2013.  The agency is self-supported, which allows it to be insulated from government shutdowns.  Additionally, the USPTO allows for alternate work schedules and full-time work from home capabilities. Sounds like a great agency to start a career right?  It's also a great place to work for the long haul!  Many of the presenters commented that they had been with the agency for decades.  They contribute their longevity with the USPTO on their ability to do 'Details' (a stint with another office or agency entirely for a period of time).  Some Details have lasted for years.
Below, I've pulled out a few key facts from what I learned about the USPTO.
Patents
There are 9,000 patent examiners (electrical, mechanical and physics)
35 to 40% of the people who apply to become patent examiners receive full-time offers and 50% of those are JD holders
Fall externships are open now
There are opportunities to shadow employees on a case by case basis
OCCO
Always searching for strong writers
Accepting interns, but no full-time opportunities upcoming
Interns get 'a run at the salad bar'
Hiring officials look favorably at applicants who were previously interns
OEEOD
Helps make USPTO diverse
18 staff members (Directors are attorneys)
The formal team has three attorneys
The hiring manager is looking for:

Passion for EEO & Diversity and Inclusion
Prior education/internships in the area
work with affinity groups (i.e. NAACP)
solid writing skills
proven use of alternative dispute resolution skills

No internship program currently
Trademarks
Attorneys are the bulk of the workforce. 860 employees, 555 attorneys
1,000 applicants per 50 jobs
The hiring manager is looking for:

Detail oriented and decisive
Works well independently, most of the time it will be just you and your computer
Soft skills: staying abreast of pop culture/current news, well rounded knowledge from art to sports to history

80 attorneys telework across the USA and Puerto Rico
Legal internships (paid and unpaid) are available, and they are very competitive
HR
Wants the USPTO to be considered the Google of Government
Using storytelling to reach applicants starting with a new campaign #ChooseGov
19% of recent grads are looking for government jobs, 74% of those seeking a government job are looking for work with the federal government
They understand the USAJobs is a tough system to work with, but working at the USPTO is wonderful and worth the application process
Veteran Hiring Program

Visit veteran recruitment fairs
Disabled veterans >30% are referred up to GS-15
Veterans with campaign medals are referred up to GS-11
Use the 'Hire Vets' mailbox to be matched before a position is broadcast to the public

Send an email to the veteran hiring coordinator and ask what's available and if you qualify
Go through Recruit Military or Hiring Out Heroes
OCE/OPIA
A 2010 startup
Works on European trademarks, economic & legal literature updates
Trademark registration is a leading indicator of economic ups and downs (The base of IP is econ)
Hiring manager is looking for:

PhD's
Open to different communication styles
Team oriented

Office has unpaid externs that work on specific programming projects
Bonus: The cafeteria at the USPTO is amazing! I had a delicious made-to-order salad from the manifold of food stations including a pop-up BBQ.
Thank you Tanaga Boozer for giving us an inside look at your great agency!