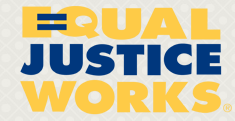 Equal Justice Works is excited to announce the Rural Summer Legal Corps program which connects public interest law students with LSC-funded civil legal aid organizations to address pressing legal issues facing rural communities.
Applications must be submitted by February 29 for the 31 positions open nationwide. Participants must complete 300 hours of service by August 31, 2016 to receive the $4,000 stipend.
More information can be found below and at www.rurallegalcorps.org. Please share this opportunity with any students who may be interested! Questions can be directed to ruralcorps@equaljusticeworks.org.
SERVICE
The Rural Summer Legal Corps program will operate between May-August 2016. Participants will begin the summer with intensive training from poverty law experts on housing, domestic violence, public benefits, migrant farmworkers, Native American, and family law. After the training, the law students will travel directly to their host site to begin their 8-10 week placement.
Participants will build their legal skills in various areas, such as direct legal services, outreach and education, and capacity building.
OPEN POSITIONS
Position descriptions and more information on the Legal Aid Providers can be found on our website. Applications must be submitted here by February 29.
HOUSING AND TRANSPORTATION
It is the participant's responsibility to obtain housing and ensure adequate transportation throughout the summer placement. Legal Aid Providers (host organizations) will provide general information, however it is not the responsibility of the legal aid provider (host organization) to provide direct housing or transportation assistance.
ELIGIBILITY
Attend an Equal Justice Works member school.
Complete their first or second year of law school by the start of their summer placement.
Be a U.S. citizen, U.S. national or lawful permanent resident (e.g., green card).
Pass a criminal background check. Applicants are not disqualified for most criminal records.
Possess a valid driver's license and access to adequate transportation during summer placement.
ADDITIONAL FUNDING
There are two funding options for Rural Summer Legal Corps members. As shown in the table below, the standalone option is favorable for applicants who have significant outside funding from their law school or another source.
| | | | |
| --- | --- | --- | --- |
| Option | Stipend | Education Award | Outside Funding |
| Rural Summer Legal Corps (standalone) | $4,000 | $0 | More than $1,212 |
| Rural Summer Legal Corps + AmeriCorps JD | $4,000 | $1,212 | $300 or less |